Increase your sales effectiveness by 30% with SalesWizard CRM!
Use SalesWizard to handle your contacts to increase sales of your products or services. Send offers online and sign contracts digitally. Please don't delay any longer and try it free of charge now!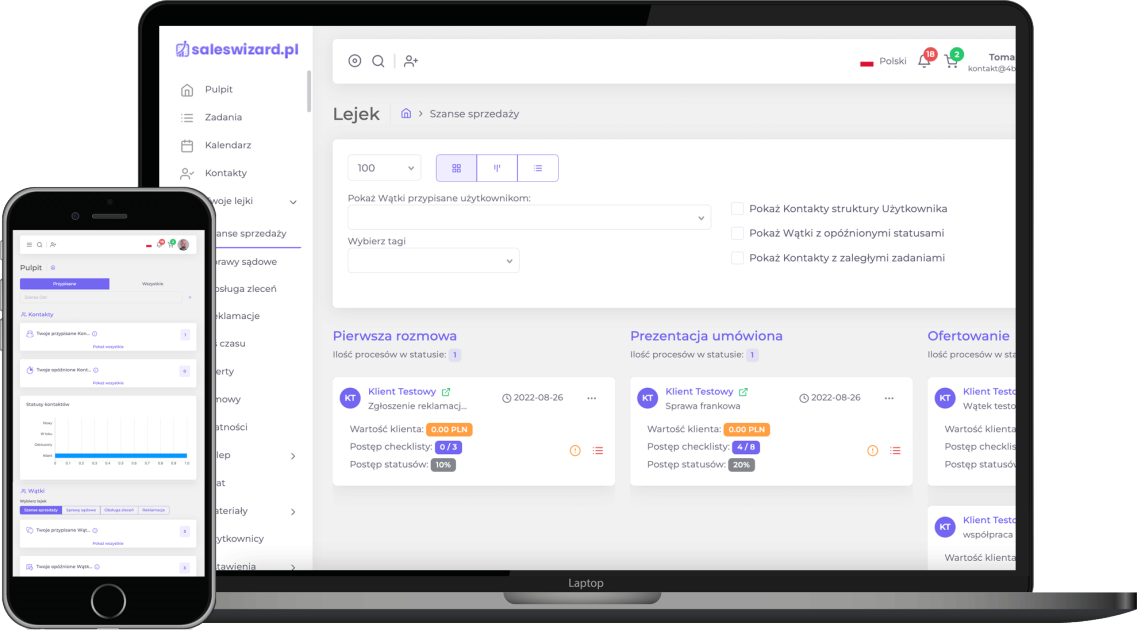 Cloud CRM system functionalities
Discover the best functionalities that will elevate your organization to a new level!
Managing leads and service funnels
In SalesWizard CRM, you can create service funnels and funnel statuses yourself. Manage potential customers by assigning them to appropriate funnels, giving them statuses, control delays. You can display all contacts in an intuitive Kanban Board. You can use funnels not only for sales but also in the process of complaints, GDPR incident reporting, or service fulfillment.  
The online offering module will help you standardize the entire process of handling potential customers in terms of offers sent to them. A standardized offering website, digital signature, and contract generator will help you increase your organization's sales.
Digital signature in CRM system
SalesWizard CRM allows you to integrate with Autenti digital signature. Using the electronic signature, you can enter contracts with your customers remotely without using paper. The offering module will also allow you to track statistics of offer openings. 
Generator of contract and document templates
You can save all the data from Customer Cards and Surveys as short codes to use them for generating template contracts and documents. With documents generated in PDF, you will save your team's valuable time to focus on the most important things.
In the internal store of the CRM system, you can define your products and services, specify their parameters and attributes, add photos, and specify prices and discounts. You can change the stock of your store. You can group all the products and services you create in the store into categories and subcategories. The internal store of the CRM system is used to offer and generate contracts with customers.
Documents in the CRM system
You can store all relevant documents regarding your organization's processes in SalesWizard.
E-mail and SMS communication
Sending and receiving e-mails in the system will facilitate communication with potential and current customers. E-mail templates can significantly reduce the time to prepare standard and repetitive responses. Storing all messages in the SalesWizard system will allow you to find essential information quickly.
In SalesWizard, you can record every activity connected to your customer or potential customer's case. You create the types of notes and tasks from which you can create statistics on the activities performed. You can also request completion or non-completion reports for the types of tasks you create.
Multiple threads with one client
We have prepared a system of threads you can assign to different service funnels and statuses. This way, you will distribute the processes performed with one customer to other users of the CRM system.
You can visualize all tasks in the system on the system calendar. You can quickly sort your tasks and those of your system users.
You can communicate internally with your users through internal chat.
Forms integrations with CRM
You will easily integrate your website with your CRM system. This way, requests from potential customers will flow directly into your system. A WordPress plugin and a dedicated one for HTML will save you time. If you are running a Facebook campaign or with Google Ads forms, you can also integrate these most popular services with SalesWizard CRM!
There' s more!
We are constantly
creating new features!
Please contact us if you haven't found the features you need for your organization.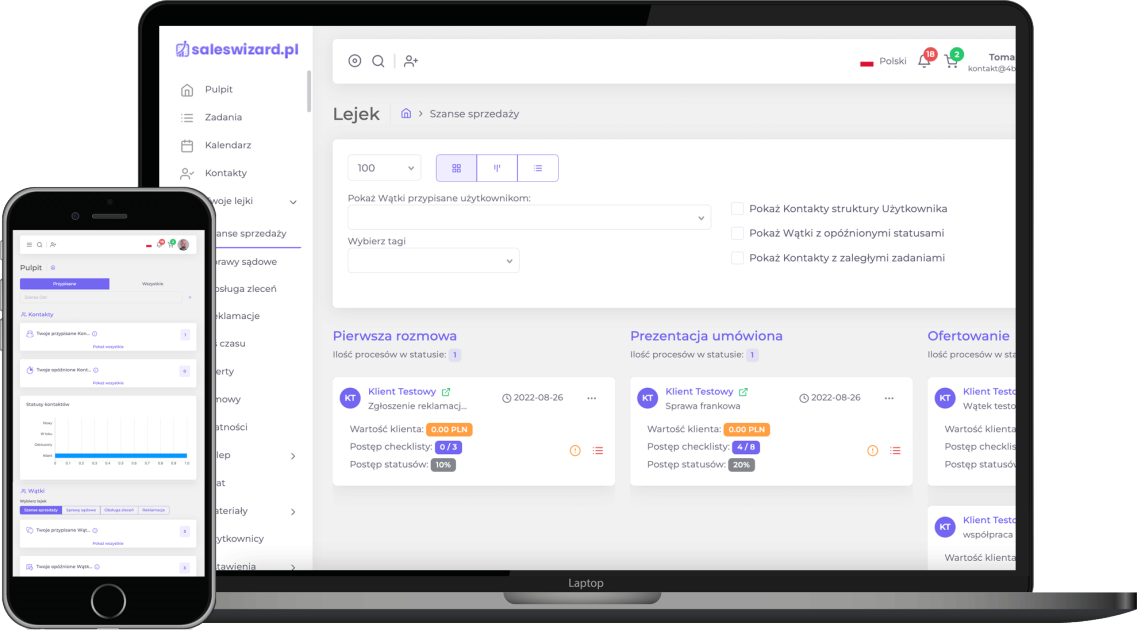 Let us help you digitize your business!
Acquire more leads, and close more sales with SalesWizard CRM!
Competitors are using modern cloud tools, running effective marketing campaigns, and selling more? You can do that too!
Try SalesWizard CRM and see how quickly you can catch up with your competitors. Acquiring contacts directly into the CRM system, efficient lead handling, standardized offering, and simplifying the contracting procedure with an electronic signature will increase the number of closed sales by 30%!