Contact forms in Facebook Ads – how can customers contact your company?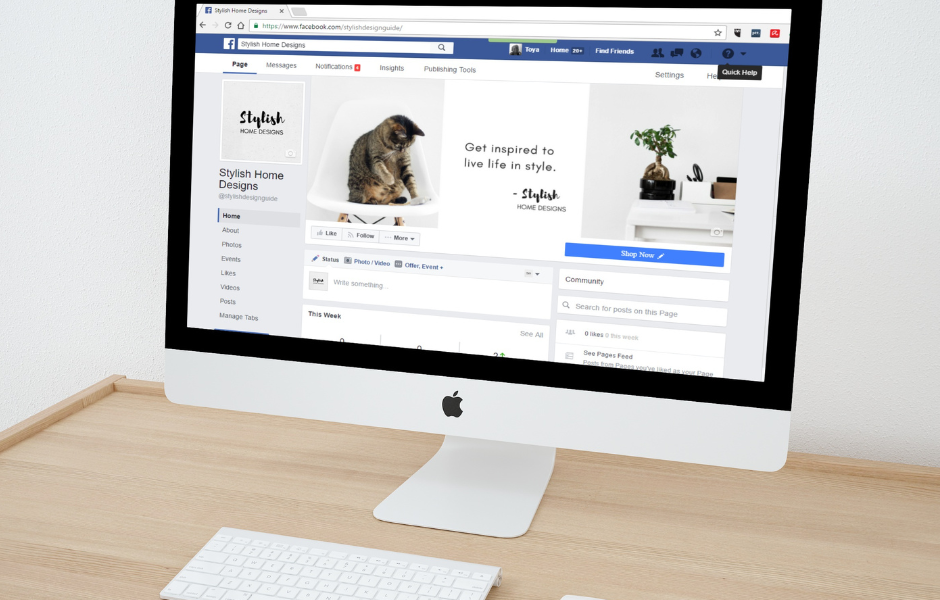 Statistically, nearly 40% of the world's population uses Facebook a minimum of once a month, and one in four people in the world does so daily. This shows the massive potential of Facebook to reach a well-defined audience. This allows companies to successfully profile ads and create campaigns in a dedicated tool – Facebook Ads. Check out how you can set up a contact form in Facebook Ads and what the benefits will be!
Facebook Ads – a few words about the tool
We will start the entry rather untypically – the classic convention of the text dictates to introduce the product, focus on the selected functionality, and finally list the advantages of the solution. Here we will reverse the order slightly and answer the question "why is it worth it?" and then move on to "how to do it?". Facebook Ads – as it is referred to – is a tool for promoting company profiles and fan pages on Facebook. It is a perfect tool that creates a considerable number of possibilities, and among the advantages, the most important ones should be pointed out:
Largest online community – nearly 2 billion people visit Facebook every day, making this platform the largest social media medium;
Low entry threshold – a budget of just $14 per day is enough to launch a marketing campaign;
Direct control over the marketing campaign and its effects – all results are received in the form of clear statistics;
Possibility of strict audience profiling – we determine to whom the ad will appear based on age, gender, location, or interests;
The option of direct interaction with the user – Facebook Ads allows you to interact with the page and leave a contact form.
The last advantage presented directly impacts sales results. The ability to leave a contact form acts like an open door at a stationary outlet. It's also a sign of a hot, or at least warm, lead that we should take immediate action against. It only takes three simple steps to equip your Facebook Ads ad with a fully functional contact form.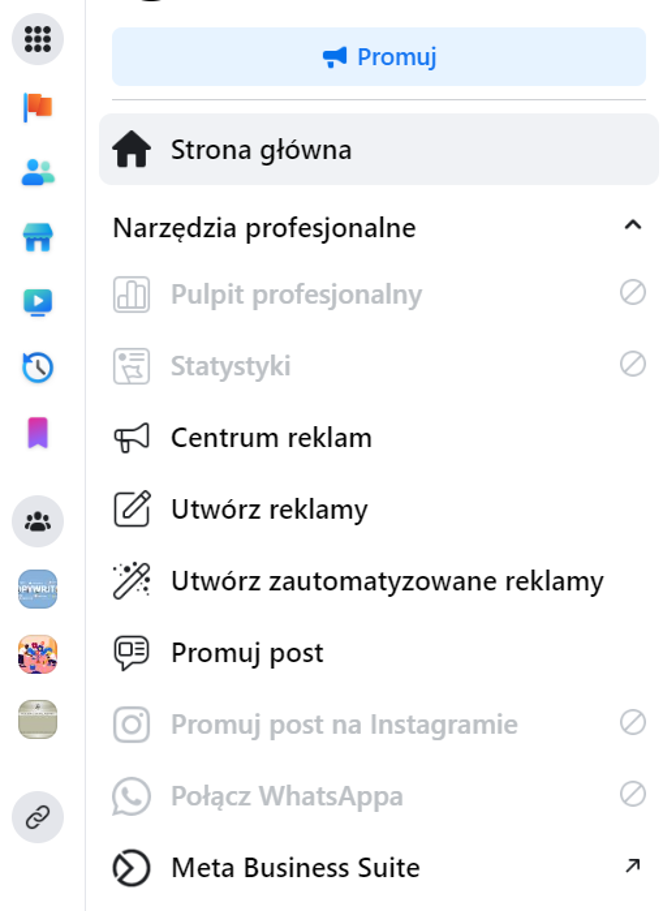 How to get started with Facebook Ads?
For Facebook Ads to face us, creating a company profile on the Facebook page is necessary. We can do this by registering a new account or adding a page to a personal profile. It should be mentioned that the personal account itself will not support the advertising functionality. Right after setting up the page, on the left side of the screen in the desktop version, we will see a bar titled "Professional Tools." In it, we have three options to choose from – "Ad Center" (helpful after publishing an ad), "Create Ad" (to start promotional activities), and "Create Automated Ads" (useful instead for a marketing campaign). To access these functionalities from a mobile device, it is necessary to install the Business Suite app (blue pie chart icon with a cutout on a white background). By selecting the "Create Ad" option, we start the activity in Facebook Ads.
Facebook Ads policy
If you haven't had the opportunity to create Facebook ads before, the platform will show you a message related to an internal policy. It refers to anti-discrimination, that is, taking marketing activities in a way that could exclude specific individuals or groups. Of course, no one will block the advertising of halal products as being aimed only at Muslims or ban the promotion of eyeglasses on the pretext of insulting blind people. Instead, what the administrators are concerned with here is the unwarranted valuing of the recipient, such as the creation of a cafe "for heterosexual couples only" or a barber shop promoting itself with a sign saying "no women allowed." Let's take this warning seriously – overlooking common decency, Facebook will be reluctant to block our advertising (without a refund) and, in extreme cases, even block our profile. This rule applies not only to text but also to graphic content or dialogue in a video clip.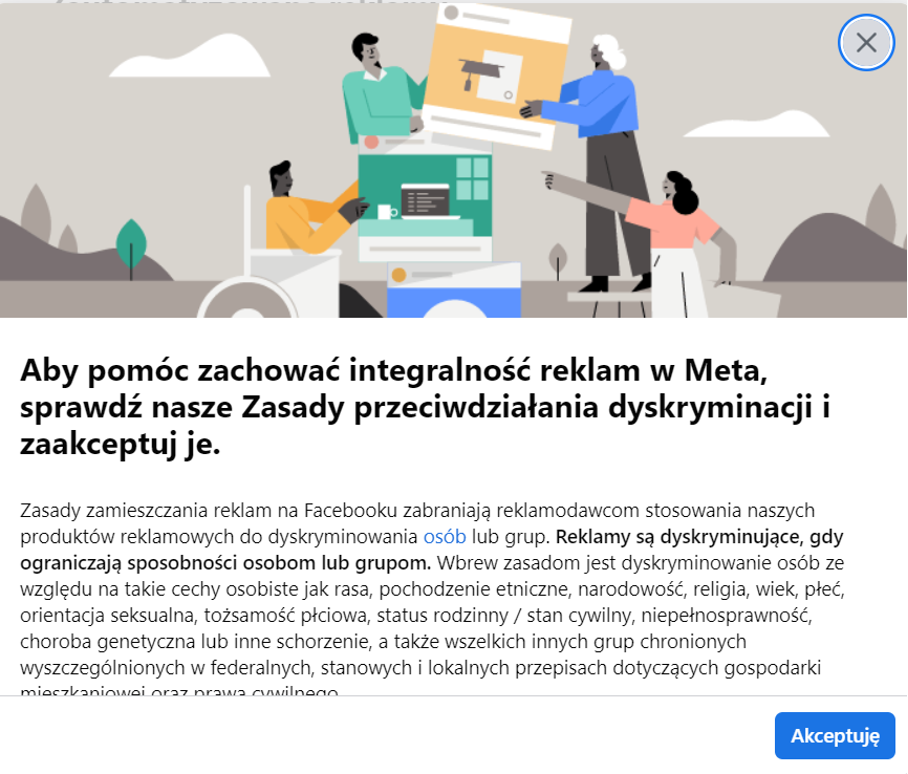 Step 1 – Create an ad and configure the target
After accepting the platform's policy, we can start creating Facebook Ads. We will be taken to a menu that looks exactly like the screenshot below. The default settings assume an automatic ad format with the material as a profile description. On the other hand, the graphic is pulled from the background photo, which is your profile banner ad. This is not a wrong solution, as long as you only want to introduce yourself to the broader community and not have in-depth profits. If we want to present forms and thus acquire leads, it is necessary to change the goal from "Automatically" (first option) to "Acquire more contacts" (second option). To be sure – you should see the light gray text "Use the form to collect contact information from potential customers" under the goal. This option will make a soft blue button with the keyword "Create form" appear under the field with the description and graphic.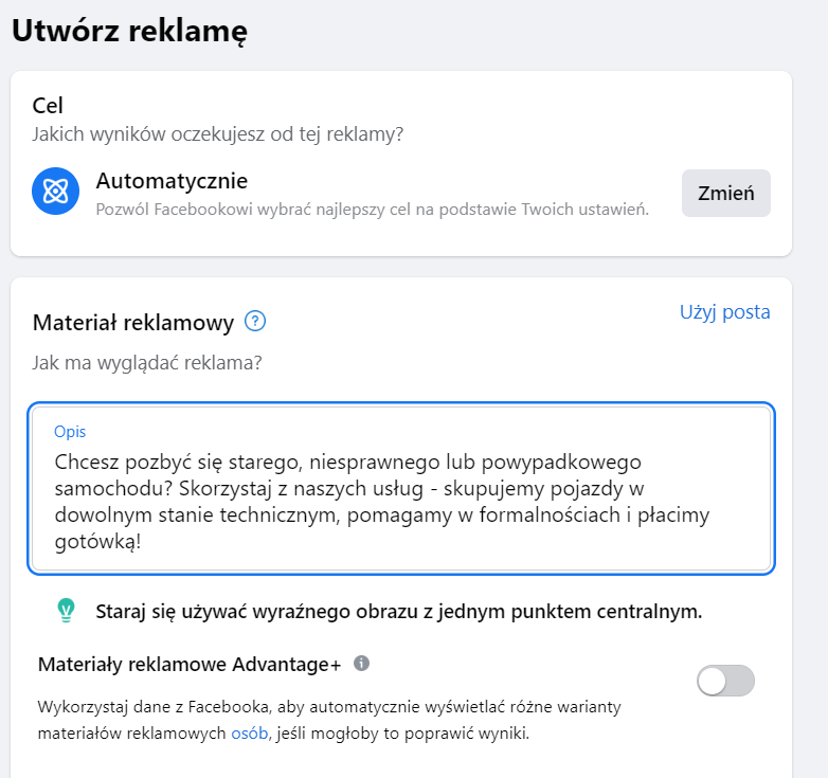 Step 2 – Create and configure the contact form
After clicking the "Create Form" button, we will be presented with a panel for managing our forms. The option to load previous drafts will appear if we have previously created forms. Since we have not completed a form from our profile before, we automatically proceed to create a new draft. The quintessential part of what we are doing is getting information about the potential customer. Consider what you need – if you are running a car-buying business, basic contact information will suffice. If, on the other hand, you offer sports massage services with a drive-in client, it would also be good to know the mailing address, optional date of birth, and gender. Here Facebook suggests a few things to complete within the form:
First and last name (the information is automatically marked, it cannot be unmarked);
In addition, it is possible to configure your questions with a short answer. To do this, click the gray "Add Question +" button. At the very end, there is an option to add a privacy policy or GDPR clause. This one must be included as an external link to your website or document containing the clause's total content. Don't be in a hurry to configure the form – it's a key element of your Google Ads, so it's worth spending a few minutes more, but be sure to create everything according to our concept.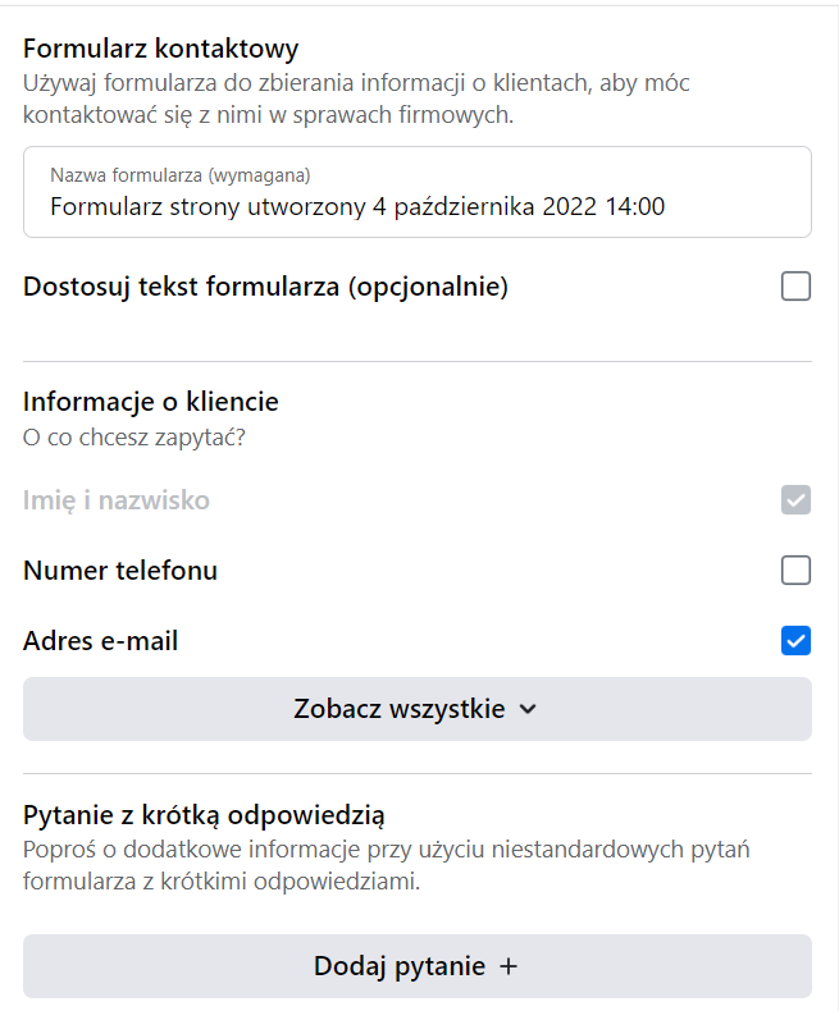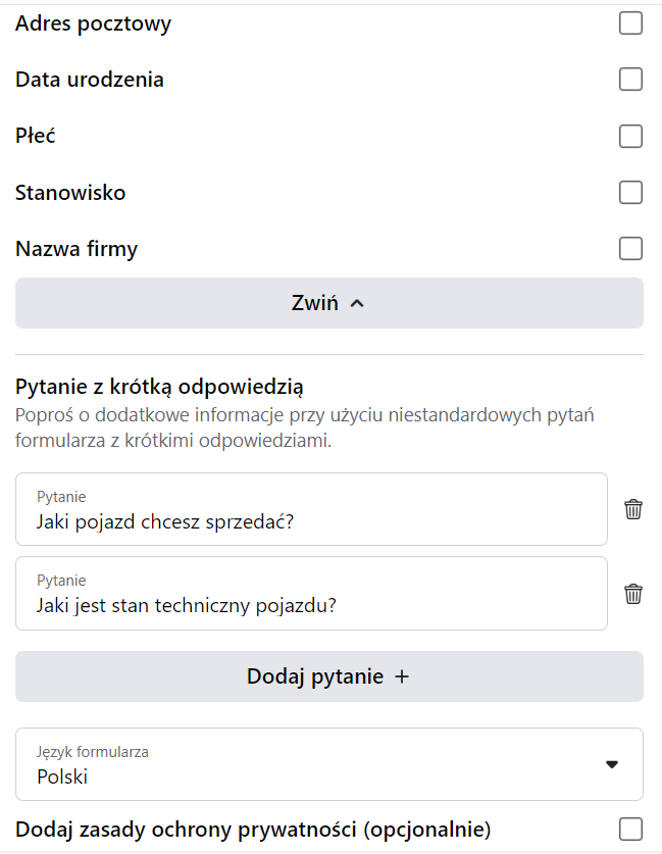 Step 3 – Tailor the ad to the audience
You already have the form, and now it remains to determine who should see it in the first place. By matching your ad to your target audience, you can make your sales efforts even more effective. What sense would it make to advertise an auto-buy from Wroclaw in Szczecin, Bydgoszcz, or Bialystok? Why would you target an ad for spa stays in Ciechocinek to an audience of 18-30 years old? Let's face it – this way, you could "burn through" your budget. And why would you, when Facebook Ads allows you to configure your target audience very precisely? It's better to reduce the audience slightly and, instead, increase the radius of the ad display. Optionally, for the money you save, you can buy a more extended campaign, which will display not for 21, but 28 days. The final choice is left to you, but remember to make the most of every cent of your budget.
Analysis of Facebook Ads activities and results
Preparing a good ad is quite a challenge and, importantly, not the end of your work. The trick is not to lay out tens of thousands of dollars for mass marketing; the trick is to run it in such a way as to use the tool's full potential with a limited budget. And the potential is not lacking in Facebook Ads, especially when we talk about contact forms. While conducting activities, we can see detailed data related to a given ad. The system will show us information about what kind of interaction was performed (e.g., display, click on a post, entry to the page, submission of a form), to what group the ad reached, and whether the so-called negative feedback was returned (e.g., how many people hid the post). Observing the results and drawing correct conclusions will bring additional benefits related to maximizing the effects of advertising.
Contact forms in Facebook Ads
Contact forms are one of the methods of collecting contacts for potential customers as part of the defined goals of the marketing campaign we launch on the site.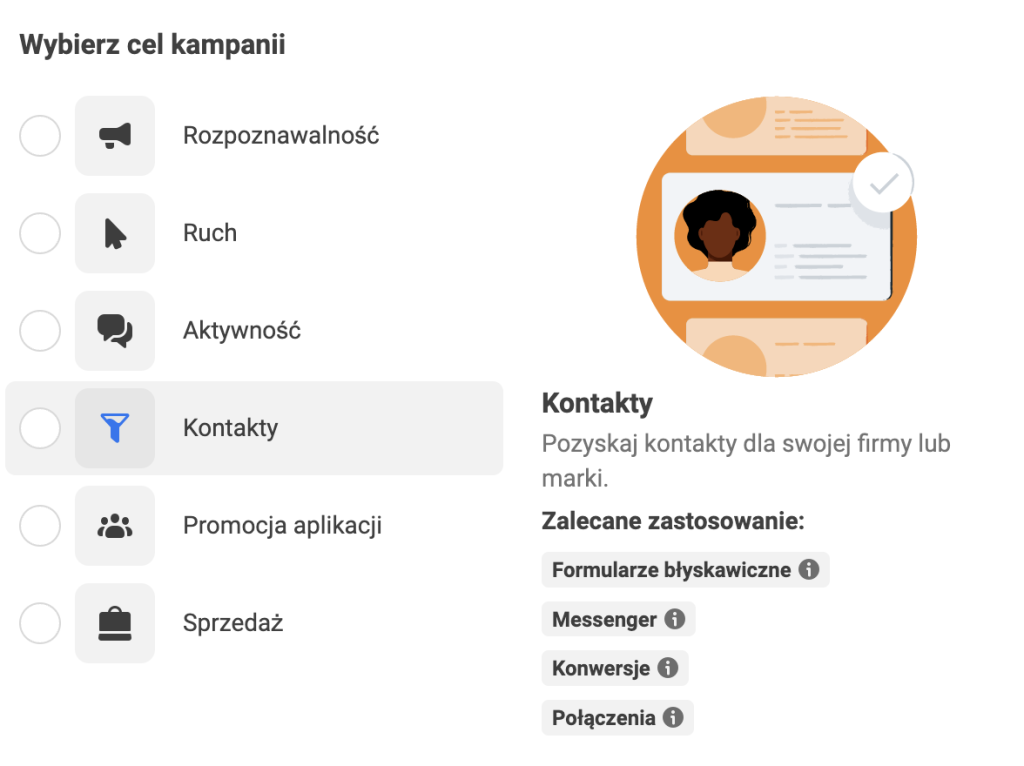 Contacts collected using the form are, by default, stored in the Contact Center of the Meta Business Suite account. In practice, campaign managers or other authorized persons must constantly check whether new leads have been received and forward them to the sales department, which handles the "processing" of such inquiries.
Exporting Facebook contacts to the CRM system
We have implemented integration with Facebook Ads contact forms in SalesWizard – all requests are sent directly from Facebook to the CRM system. Here, you can read more about SalesWizard's integration with Facebook Ads, Google Ads, WordPress, and HTML.
---